COVID-19 has been challenging for everyone. Institutions are having to adapt in unprecedented ways and libraries are no exception. Most library buildings are closed to the public and staff have quickly developed ways to engage with their patrons digitally. Virtual platforms like Zoom, Facebook Live, Google Hangouts, and others provide a way for libraries to bring storytimes, craft classes, and other events to patrons' phones, tablets, and desktops.

Virtual events are happening everywhere and libraries are finding that they are reaching an even wider audience. Librarians are sharing programs like "Goodnight with Dolly," a weekly program where Dolly Parton reads books from her Imagination Library, and creating their own similar content. Publishers like Penguin Random House, Sourcebooks, and Simon & Schuster Children's Publishing have all extended special offers and permission to read their books in virtual environments. Each publisher has different guidelines, so please be sure to review those before you start filming! Edelweiss+ compiled a great list of resources available exclusively for librarians.
Libraries have also taken this time to draw attention to digital resources available to their patrons. We've seen several libraries opening up online applications for a digital library card to reach a wider audience. This is also an opportunity to raise awareness with existing patrons who may be engaging with the library digitally for the first time. Ames Public Library recently made changes to their website to reflect their need to adapt to a wider virtual audience.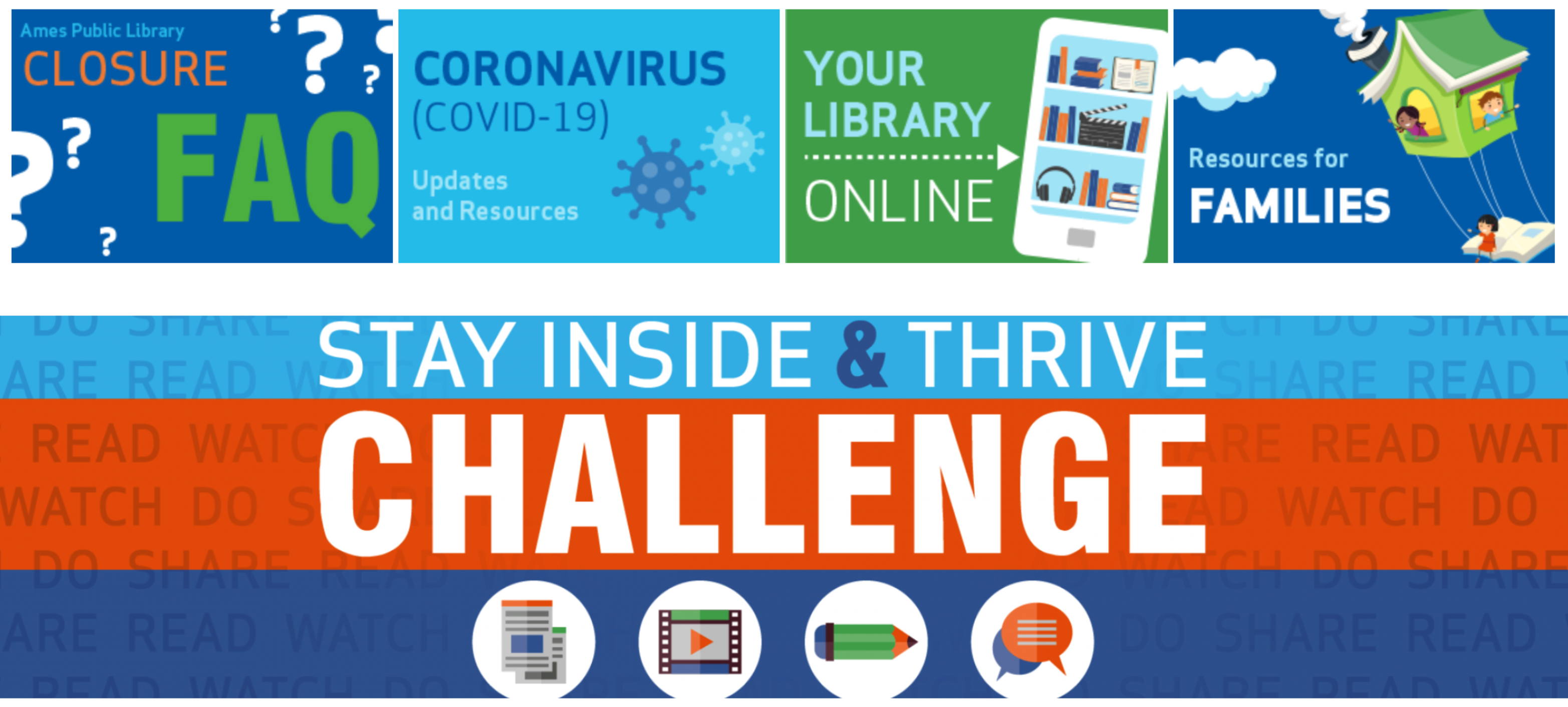 A library's website is a vital tool now more than ever in connecting with quarantined patrons. Some of our favorite examples include a page housing Madison County Library's video content, Ames Public Library's "Stay Inside & Thrive Challenge" landing page, and a COVID-19 Diaries project sponsored by Metro Library.
While libraries are having to adapt to the situation, the library's primary purpose has not changed. Libraries are still an invaluable resource to parents who are now having to homeschool their children, for students who are needing additional help learning in a different environment, and workers who have recently found themselves without a job and confused about where to turn next. Libraries continue to be a resource that is paramount to their community. It is our fervent belief that libraries are flexible and resilient enough to engage patrons differently, weather this pandemic, and come out stronger on the other side, much as they did in the Great Recession.
Best wishes for health, safety, and hope in all libraries and their communities from the entire LibraryMarket team.